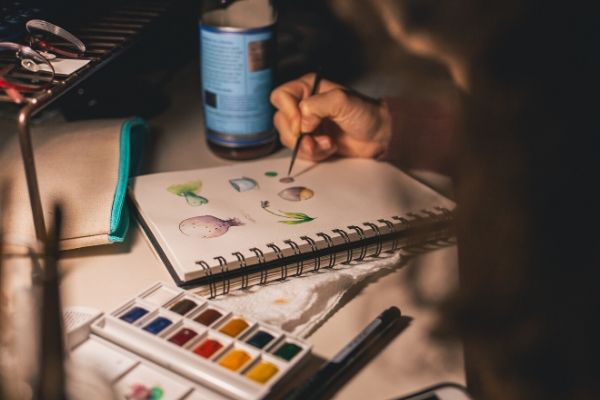 Course Summary
Course Code: AOL2C03Y22
Start Date: Tuesday 06 December 2022
Start Time and Lesson Duration: 19:00 for 02:30 hours
Duration: 24 lessons over 24 week(s)
Location: Online Live

By continuing you confirm that you are 19 or over and have agreed to the the terms and conditions

Description
Are you ready to start your journey to becoming an artist, feeling inquisitive, creative and open-minded then this course is just for you. You will be introduced to skills and materials working in art and design while working towards a series of subject briefs experimenting with different techniques and media.
What Will Happen At My First Lesson
You will be given information about the course content.
Examinations Venue Disclaimer
This qualification does not have a written exam as the qualification is achieved by the completion and submission of a portfolio.
What Qualification/level is this course?
This is course leads to a nationally recognised NCFE Level 1 Award in Art and Design.
Who is the course for?
This course is suitable for beginners or those who have completed an introductory course within art and design who would like to gain a qualification.
What can I expect to learn?
The objectives of the qualification are to enable learners to: - Develop a portfolio of work in art and design - Use materials, tools and equipment correctly and safely - Develop an understanding of health and safety considerations surrounding art and design You will do this by completing three units 1. Explore Available Resources to Develop Basic Art and Design Skills 2. Explore and Develop Art and Design Ideas Creatively 3. Create, Present and Review Final Art and Design item (s) Learning will take place online with the use of the VLE and live interactive webinars. Demonstrations of techniques will be available as video and written content. Peer learning is encouraged and the use of online discussion boards within the VLE will be used, as well as websites such as Padlet to allow the sharing of work, ideas and questions.
How will I learn?
Your tutor will use a number of different teaching methods to develop your skills. These will include a wide range of authentic materials, individual study, working in pairs/group activities and will include the use of video/audio. You will use online learning technologies to develop your skills.
How will I know how well I am doing?
You will be encouraged to reflect on your learning through regular assessments and feedback from your tutor.
Will I have to do any work at home ?
This is an online course, you are encouraged to spend time between sessions practising your skills and completing projects.
What will I need to provide?
To participate in this course, you will need a laptop, tablet or PC with a webcam and microphone, internet connection with Google Chrome browser, an email address and be able to access websites. Access to a printer would be beneficial but not essential. For the first session please be prepared with the following: A camera or camera phone A4 sketchbook HB Pencil Pen Your tutor will advise on which portfolio meets the requirements. Further required materials will be outlined during the first session.
Are there any other costs?
Additional costs may vary depending on projects chosen.
What can I do next?
ACL offers a wide range of other courses. For information about ACL courses please see www.essex.gov.uk/adultlearning. The National Careers Service provides information, advice and guidance to help you make decisions on learning, training and work. The service offers confidential and impartial advice and is supported by qualified careers advisers. To make an appointment please call 0800 100 900 (calls are free from landlines and most mobile numbers) or visit their website https://nationalcareersservice.direct.gov.uk
Further information
For all enquiries regarding this course please contact 0345 603 7635.