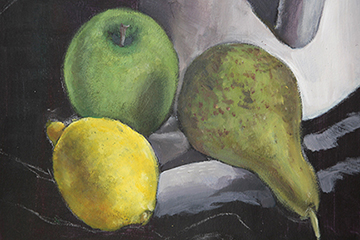 Course Summary
Course Code: AOL3C72Y21
Start Date: Wednesday 25 May 2022
Start Time and Lesson Duration: 19:00 for 02:30 hours
Duration: 1 lessons over 1 week(s)
Location: Online Live

By continuing you confirm that you are 19 or over and have agreed to the the terms and conditions

Description
This workshop is perfect opportunity to dip your toe in the after by exploring some mixed media, what materials are used and how to it can be progressed into a full course. The workshop will be delivered online LIVE using Microsoft Teams. To participate you will need a laptop, tablet with a microphone and camera along with access to Google Chrome or Edge Browsers.  Technical support can be found at www.aclessex.com/tech-sup-office-365
What Qualification/level is this course?
This course is designed for personal development.
Who is the course for?
This workshop is suitable for anyone who has an interest in collage and mixed media and would learn more about the subject before progressing to a full course.
What can I expect to learn?
Learners will experience the use of different drawing and painting media and explore the use of textile, stitch and collage.
How will I learn?
This course will be delivered online LIVE using Microsoft Teams via a weekly webinar. Your tutor will use a number of different teaching methods to develop your skills. These will include a wide range of authentic materials, individual study, working in pairs/group activities.
How will I know how well I am doing?
The tutor will discuss your progress with you regularly and give developmental feedback throughout the workshop.
Will I have to do any work at home?
No
What will I need to provide?
Pencils, drawing pens and any other media you would like to use. If you are unsure of resources please contact the tutor tessa.frampton@essex.gov.uk To participate you will need a laptop, tablet with a microphone and camera along with access to Google Chrome or Edge Browsers. Technical support can be found at www.aclessex.com/tech-sup-office-365
Are there any other costs?
No
What can I do next?
For information on ACL courses please see http://www.aclessex.com/ The National Careers Service provides information, advice and guidance to help you make decisions on learning, training and work. The service offers confidential and impartial advice and is supported by qualified careers advisers. To make an appointment please call 0800 100 900 ( calls are free from landlines and most mobile numbers) or visit their website https://nationalcareerservice.direct.gov.uk
Further information
For all enquiries regarding this course please contact 0345 603 7635.