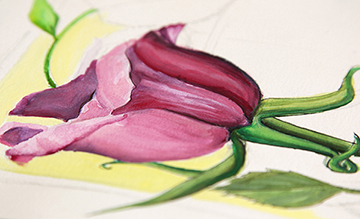 Course Summary
Course Code: COL5B71Y20
Start Date: Friday 07 May 2021
Start Time and Lesson Duration: 13:00 for 02:00 hours
Duration: 4 lessons over 4 week(s)
Location: Online

By continuing you confirm that you are 19 or over and have agreed to the the terms and conditions

Description
Overcome your fear of drawing in this introduction to the skill. To participate in this course, you will need a laptop, tablet or PC with webcam, a microphone and speakers, internet connection with Google Chrome browser, an email address and be able to access websites.
Who is this course for?
This course is for students who have had little or no experience of drawing and will explore many aspects of drawing in an experimental manner. You will have the opportunity to explore a range of drawing and mark making techniques.
What can I expect to learn?
By the end of the course you will: - have gained an understanding of tone; - be able to produce a range of marks using a variety of drawing media; - be able to create a range of drawings that show an experimental approach to drawing.
How will I know how I am progressing?
You will negotiate your objectives with the tutor at the start of the course and these will be reviewed regularly. You will be given an online sketchbook to record your progress and evidence your achievements. The tutor will provide developmental feedback throughout the course to ensure you get the most from your learning with ACL.
Will I have any homework?
As this is an online course there is an expectation that practical painting projects and activities will take place throughout the week in preparation for the live webinars. Students will be expected to work through given worksheets each week, they will also contribute to class meetings and image sharing forums. Students will be expected to look at different artists work and to collect images, they will produce a sketchbook of drawings with notes and ideas. Feed back will be given via live webinar meetings along with email. Students will be required to access the VLE for the relevant class materials
What will I need to provide?
To participate in this course, you will need a device* with a webcam and a microphone and an internet connection to Google Chrome. You will need an email address and be able to access websites. *suitable devices include a desktop computer, a laptop computer or a tablet. Students will need basic drawing materials, including a range of sketching pencils, fine liner, watercolour paints/inks, couloured pencils, biros and cartridge paper. Throughout the course students may need or want to add to their art materials wherever possible alternatives will be discussed.
What can I do next?
ACL has a wide range of other courses. For more information please visit the website: http://www.aclessex.com The National Careers Service provides information, advice and guidance to help you make decisions on learning, training and work. The service offers confidential and impartial advice and is supported by qualified careers advisers. To make an appointment please call 0800 100 900 ( calls are free from landlines and most mobile numbers) or visit their website https://nationalcareerservice.direct.gov.uk
Further information
For all enquiries regarding this course please contact 0345 603 7635.
Location
Online
.
ZZ99 9ZZ


Find us here