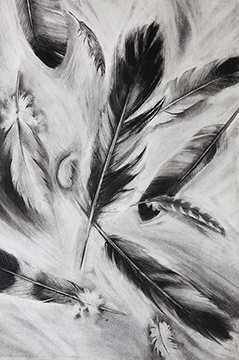 Course Summary
Course Code: COL6A70Y20
Start Date: Saturday 15 May 2021
Start Time and Lesson Duration: 10:00 for 05:30 hours
Duration: 1 lessons over 1 week(s)
Location: Online

By continuing you confirm that you are 19 or over and have agreed to the the terms and conditions

Description
A one day workshop exploring oil painting, which touches on colour theory, composition and perspective. To participate in this course, you will need a laptop, tablet or PC with webcam, a microphone and speakers, internet connection with Google Chrome browser, an email address and be able to access websites.
What Qualification/level is this course?
This course is for personal development and does not lead to a qualification.
Who is the course for?
This course is suitable for anyone who is interested in the beauty of this media and doesn't mind getting a little messy. No previous experience necessary, but you must be able to navigate a computer to acces this online workshop. Please note that this workshop includes some independent work and that it also includes a 30 minute lunch break.
What can I expect to learn?
You will develop knowledge and skills of: - application of media and how this can be utilised to give you the best outcome; - colour theory, composition and perspective; - correcting mistakes easily and expressing your own style through confident brushwork.
How will I learn?
This online workshop will include tutor demonstrations, group discussion and periods of independent work. You will have access to videos and other resources to support you and will, at agreed periods throughout the da,y meet with your tutor and other learners in your virtual classroom to discuss progress and for the tutor to provide you with feedback.
How will I know how well I am doing?
Your tutor will give developmental feedback to support and challenge you in achieving the most from the course.
Will I have to do any work at home?
Additional home study is optional but you will get more out of the course by practising at home and doing some research after the workshop.
What will I need to provide?
You will need: Water soluble oils (starter set is minimum, with a few additions such as Ivory Black, Burnt Umber, Yellow Ochre, Burnt Sienna and Sap Green (37ml tubes). Canvas boards A3 or Canvas paper (drawing to stick to) Masking tape Water soluble oil medium Brushes - 1" flat, size 10, 4 filberts (looks like a cat's tongue), size 1 Rigger and a detail brush (synthetic brushes will do). Something to write with. Table easel or similar. You will , also need a laptop/tablet/PC with a webcam and microphone, internet connection with Google Chrome browser, an email address and be able to access websites.
Are there any other costs?
Other costs may vary depending on the projects chosen. Costs will be kept to a minimum.
What can I do next?
What can I do next? Join one of the tutor's classes that incorporate Oils and other media. Your tutor will be willing to re-run this session in the future. Please keep in touch with Tutor. For information on ACL courses please see http://www.aclessex.com/ The National Careers Service provides information, advice and guidance to help you make decisions on learning, training and work. The service offers confidential and impartial advice and is supported by qualified careers advisers. To make an appointment please call 0800 100 900 ( calls are free from landlines and most mobile numbers) or visit their website https://nationalcareerservice.direct.gov.uk
Further information
For all enquiries regarding this course please contact 0345 603 7635.
Location
Online
.
ZZ99 9ZZ


Find us here