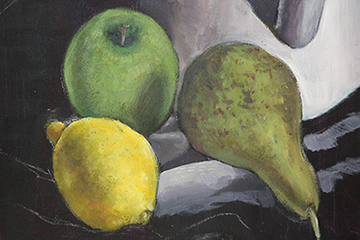 Course Summary
Course Code: FAW2A74Y21
Start Date: Tuesday 19 July 2022
Start Time and Lesson Duration: 10:00 for 03:00 hours
Duration: 1 lessons over 1 week(s)
Location: ACL Harlow

By continuing you confirm that you are 19 or over and have agreed to the the terms and conditions

Description
Create beautiful pieces of botanical artwork by using observational skills and looking at plants and flowers in detail.
What can I expect to learn?
This fun session is intended to develop your love of learning. It is suitable for complete beginners or anyone who would like the opportunity to revisit the basics and get some help troubleshooting techniques. An ideal start if you are thinking of taking up this creative subject and are wondering what it entails.
How will I know how well I am doing?
There will be opportunities during the session to discuss your progress with your tutor and fellow learners and receive constructive developmental feedback to support you in achieving the most from the course. You will be encouraged to reflect on what you have learnt and provide us with your written feedback on the experience in your one day individual learning plan.
What will I need to provide?
You will need to provide basic art supplies for this workshop. Any other media will be discussed in the workshop and full course and it is recommended that you do not make any expensive purchases before discussing with your tutor.
Are there any other costs?
No, however your tutor may recommend further reading, research and/or websites for further independent exploratory learning.
What can I do next?
Your tutor will be pleased to discuss other courses that might assist your progression in this subject. There will also be staff on site to advise you on other courses that ACL offers. For information on ACL courses please see http://www.aclessex.com/ The National Careers Service provides information, advice and guidance to help you make decisions on learning, training and work. The service offers confidential and impartial advice and is supported by qualified careers advisers. To make an appointment please call 0800 100 900 (calls are free from landlines and most mobile numbers) or visit their website https://nationalcareersservice.direct.gov.uk
Further information
For all enquiries regarding this course please contact 0345 603 7635.
Location
ACL Harlow
Partridge Road
Harlow
Essex
CM18 6TE
Find us here