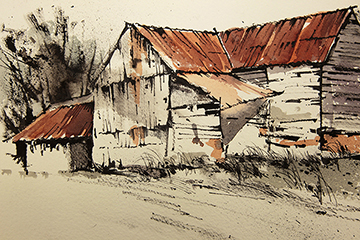 Course Summary
Course Code: JWC3A46Y22
Start Date: Wednesday 19 April 2023
Start Time and Lesson Duration: 10:00 for 02:00 hours
Duration: 4 lessons over 4 week(s)
Location: ACL Witham

By continuing you confirm that you are 19 or over and have agreed to the the terms and conditions

Description
Come and explore drawing and painting, discovering key techniques to develop your own articistic style. This course is suitable for beginners and improvers.
What Qualification/level is this course?
This course is designed for personal development. You will be expected to keep a portfolio of the work you are doing throughout the course.
Who is the course for?
This course is suitable for beginners and those wishing to extend their skills and knowledge. All levels will be accommodated in each session.
What can I expect to learn?
You will agree individual targets with the tutor based on your individual needs. These could include - Different materials and resources to develop observational drawing skills and painting techniques. How to develop and adapt ideas creatively through exploring the properties of pencil, charcoal and dry drawing media along with a range of painting methods suitable for watercolour, acrylic, pastels (all kinds) and oils including washes, impasto along with brush and palette knife techniques. Researching styles and genres of other artists and how they can influence your approach to drawing and painting Planning, creating and presenting final drawing(s) and painting(s)
How will I learn?
Your tutor will use a number of different teaching methods to develop your skills. These will include a wide range of authentic materials, individual study, working in pairs/group activities and will include the use of video/audio. You will also have the opportunity to use online learning technologies to develop your skills.
How will I know how well I am doing?
The tutor will discuss your progress with you regularly and give developmental feedback which will be recorded in your sketchbook. This will support you in reviewing your progress and achieving the most from the course.
Will I have to do any work at home?
Home study is optional but you will get more out of the course by practising at home and doing some research.
What will I need to provide?
Your tutor will advise you on what you need to bring each week and advice will be given in the first lesson on what materials you may need to buy. Only basic sketching materials are required for the first lesson. A4 sketch pad (containing basic cartridge paper) Pencils: HB, 2B, 4B (can be purchased in small sets or individually) Soft plastic eraser / putty rubber (approx. £2). Please speak to your tutor before purchasing any expensive resources.
Are there any other costs?
Other costs may vary depending on the projects chosen. Costs will be kept to a minimum.
What can I do next?
ACL offers a wide range of specialised art courses, your tutor will give you more information. For information on ACL courses please see http://www.aclessex.com/ The National Careers Service provides information, advice and guidance to help you make decisions on learning, training and work. The service offers confidential and impartial advice and is supported by qualified careers advisers. To make an appointment please call 0800 100 900 ( calls are free from landlines and most mobile numbers) or visit their website https://nationalcareerservice.direct.gov.uk
Further information
For all enquiries regarding this course please contact 0345 603 7635.
Location
ACL Witham
Spinks Lane
Witham
Essex
CM8 1EP
Find us here